Sparkle H.E.R.O
Here Everyday Ready to learn On time
---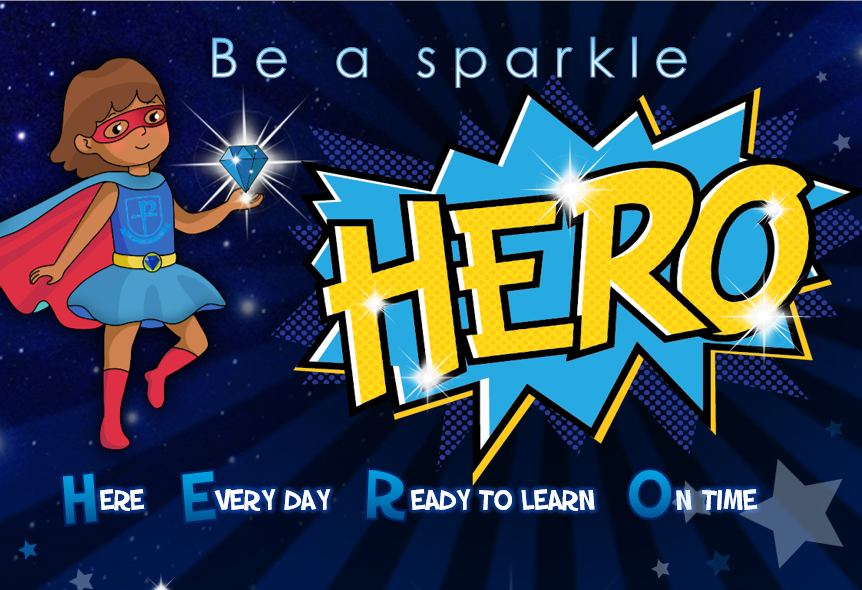 Our school has established an effective system of incentives and rewards which acknowledges the efforts of pupils to improve their attendance and timekeeping.

All school staff will work with pupils and their families to support parents in helping them to meet their legal duty; to ensure that their children attend school regularly and are on time. A whole school attendance target of 96% + has been set for the academic year 2022/2023 and various measures will be put in place to help work towards this.
The attendance initiative gives your child the chance to become a Sparkle HERO on a weekly basis as a class! If your child's class reaches 96%+ or 100% attendance for the week, they will earn Sparkle Diamonds (96%+ = one diamond 100%= two diamonds). At the end of each term, each class will be able to redeem any diamonds they have accumulated for the following prizes.
---
Sparkle H.E.R.O Awards:
| Diamonds | Prize |
| --- | --- |
| 4 | Golden hour |
| 6 | Golden afternoon |
| 8+ | Movie & popcorn |
---

Every half term each pupil who achieves 100% attendance will receive a certificate and a small prize. At the end of the academic year individual pupils who achieved 100% attendance for the full year will receive a special certificate and prize as well as being put into a draw for a chance to win a scooter or a bike!

As a parent, we ask of you to support your child through this and help them to achieve their target attendance.